Chole
Here is Chloe. Staying cool on a hot Summer Day!
Swirls
Here is Swirls. He is wearing his Tangerine collar after his surgery.
We wish you a speedy recovery!
Romeo
Luna
Stevie
Here is Stevie, an 8 week old Golden Retriever puppy who wore herself out.
Marlee
Meet Marlee, who is feeling very patriotic!
Coco
I am a newly adopted Frenchie named Coco!
Nova
Meet Nova, a most photogenic pet.
Zelda
This is Zelda. No, not the game, a very cute kitten!
Hazel
Hi, I am Hazel. I was recently adopted and I couldn't be happier!
Moose
I am Moose, an adorable Labrador Retriever
Oreo
Here's Oreo receiving a Laser Treatment. Looking cool in this goggles!
Jenny
Meet Jenny; sporting her red bandana!
Tucker
This is Tucker; Impersonating a snowball!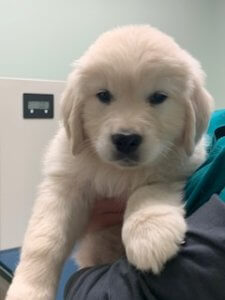 Karma
Karma is saying hello!
Emma
She is absolutely adorable at 3 lbs.
Skywalker
Aren't I cute?
Spooky
Looking very relaxed!
Dixie
Right at home in our office!
Chance
Here is Chance sporting his Passover bandanas.
Samantha
Meet Samantha. She is as cute as a button!
Parker
Meet Parker. He came in for an exam from Dr. Mia Frezzo she checked him out and he's doing just fine. And yes, he's a really big dog!
Roxy
Here is a friend's cat named Roxy. She is all dolled up and ready to celebrate the Holidays!
Meet Sadie.  She is  true Hero Dog! 
She helped her owner, Brian call for emergency help. Brian was suffering from a stroke.
(credit: Facebook/Ramapo-Bergen Animal Shelter)